Along the long curved beachfront, a promenade and jogging trail hugged the wide boulevard that bustled with cars. The palm trees, joggers, roller-bladers, and bicyclists reminded me of beach communities in Southern California.
As we approached the harbor and old town district, the resemblance to Southern California disappeared. The old town had an opened-air farmer's market surrounded with restaurants and sidewalk cafes. We hiked to the top of Castle Hill and were rather surprised to find a large city park atop the hill. Great panoramic views can be seen from here.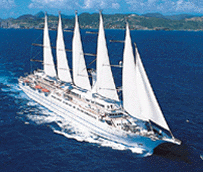 We looked forward to a relaxing cruise after the unnerving experiences with pickpockets on the Paris subway. Windsurf is the largest ship in the fleet of Windstar Cruises with a passenger capacity of over 300. This is very small compared to the mega-cruise ships that hold over 2,000 passengers. Windstar ships are actually multiple mast sailing ships, assisted by diesel-electric engines once owned by Club Med. During our cruise, we had little wind, and I never saw the sails unfurled.
We chose this cruise line because of the many port stops especially to places large ships can't dock. We liked the "smart casual" dress code--no need for suits and ties, or evening gowns for dress-up nights. This was important because we had pre-and post-cruise itineraries. This didn't stop some passengers from dressing to the "nines." Standard cabin sizes were 155 sq. ft. We thought the smaller ship and lack of entertainment and shipboard activities would encourage more interaction with other passengers. Surprisingly, we didn't meet many people like we usually do on larger ships. Each night at dinner, the maitre' d seated the four of us on a table by ourselves.
At nights, there's a small casino, or smoky lounge that played "elevator music," or VCR movies (mostly old titles) in your cabin. The food was OK, but the variety and quality wasn't as good as Celebrity and Royal Caribbean ships.