We almost bypassed Versailles in favor of visiting the Loire Valley that surrounds itself with twenty lovely castles. But after we saw some photos of Versailles, we couldn't pass up the opulent quarters of King Louis XIV and his successors.
The sheer immensity of the Versailles Palace grounds amazed us. We walked and walked before we reached the front gate to the palace entrance over a large cobblestone entryway. The gardens behind one side wing extended about two miles. Thousands of tourists jabbered in their native languages. Tour groups clogged the passageways from room to room. Flash cameras clicked away, and people with video cams were busy filming. The crowded rooms made it warm inside, although the weather outside was rather cold and rainy. The wall and ceiling paintings were amazingly bright and colorful. Beautiful sculptures made of stone and gold leaf can be seen throughout. One of the highlights was sauntering down the Hall of Mirrors, a long and wide corridor with mirror panels, elegant chandeliers, and beautiful sculptured busts.
The Louvre and D'Orsay Museums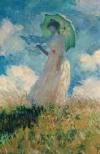 It may be disrespectful to lump the Louvre and D'Orsay museums together in this short narrative. But I have no more than a dilettante's knowledge of these fine arts. The D'Orsay is housed in a smaller but very nice and modern building. Famous impressionist artists such as Claude Monet and Eduard Degas are found at D'Orsay.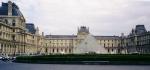 The Louvre museum is just a short walk from D'Orsay. The largeness of the Louvre museum and the surrounding grounds reminded me a little of the Smithsonian museums in Washington, D.C. But we don't have anything quite like the Louvre. We took a picture of Leonardo da Vinci's Mona Lisa. This famous painting is quite small. Signs led to the Mona Lisa all the way from the entrance, down a numerber of halls, and up various stairways to what seemed like the very bowels of the Louvre. Crowds of people vied to view and take photos of the Mona Lisa. Surprisingly flash pictures were allowed.

Paris | Versaille Palace / Louvre | Nice / Monte Carlo | San Tropez / Corsica