Tall majestic mountains capped by icy peaks and green meadows surrounded Engelberg. Every camera angle yielded dazzling scenes. Engelberg, which means "Angel Mountain," certainly looked the part.
Halfway up Mt. Titlus, on the gondola to a ski lodge called Trübsee, we could see splendid vistas. We traiped around the lodge area taking pictures and enjoyed the heights. As we came down from the mountain, we heard loud metallic clanging sounds from below. The sounds came from large bells worn by cows grazing below us. Later, cows herded down the mountain trail with clanking bells and Swiss flags on their collars.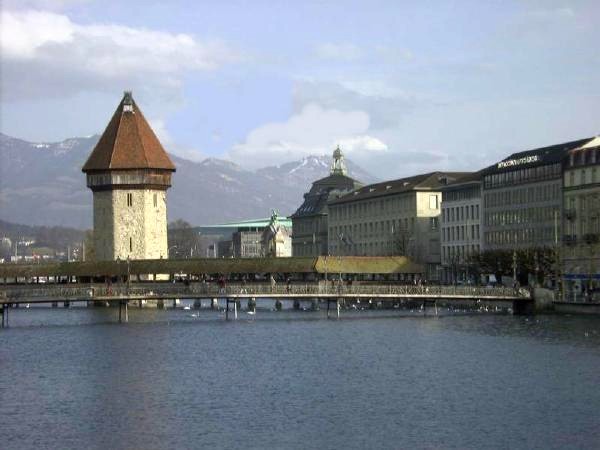 We shopped in Lucerne for a short hour. During the bus ride, we learned guided tours are cheaper than doing them on your own. That's contrary to most everywhere else in the world. Meier Tours offered multiple-day tours that included stays at 5-star hotels, such as Hotel Sweitzerhoff in Lucerne. We thought we would keep that in mind the next time we visit Switzerland.
As we entered Lucerne, we passed by the bed 'n' breakfast place we had stayed at nine years earlier. I was amazed that I remembered the place. We strolled on the famous Chapel Bridge next to the Water Tower.
Farewell to Europe - Homeward Bound
On the last evening in Zurich, we had dinner at a restaurant in Old Town, called Adlers, famous for fondue. The menu included various types of fondue, including the traditional cheese mixed with minced hams and spices and more exotic fondues made of pear and other fruits. We dipped pieces of bread and potatoes into the cheese fondues. Yum!